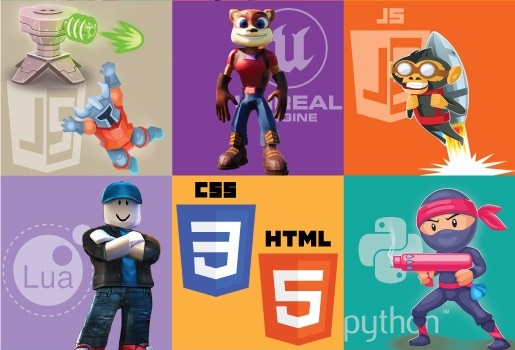 Weekly Summer Coding Camps (Ages 11 – 14)
Learn coding basics and have fun in small groups with our summer coding camps!
Various camps are available for campers of all ages and skill levels, from beginner to advanced.
Camps run for one week, with a max group size of 4.
Small group sizes ensure campers get direct feedback from the coach, and the voice channel isn't overcrowded.
Virtual Registration – Open
In-Person Registration – Register for Virtual now – Option to switch to in person will be provided if re-opening is permitted by health authorities.
---
Daily Schedule
Camp runs Monday to Friday starting at 10:00 AM and ending at 3:00 PM (UTC -4).
10:00 AM – Theory
11:00 AM – Fun
12:00 PM – One hour lunch break
1:00 PM – Theory
2:00 PM – Fun
Total of 4 hours per day of guided learning and fun!
---
Theme Calendar (Ages 7 – 14)

July 5 – 9 (Minecraft)
July 12 – 16 (Scratch)
July 19 – 23 (Javascript)
July 26 – 30 (Python)
August 2 – 6 (Minecraft)
August 9 -13 (Scratch)
August 16 – 20 (Javascript)
August 23 – 27 (Roblox)
---
Languages Overview

Each week will feature a different language to choose from. Choose the right one for your coder using the Theme Calendar above.
Minecraft

Ages: 7 – 14
Experience: Beginner to Pro
A fun camp for everyone. Minecraft Education Edition affects the in-game world through a block based language similar to Scratch.
Accounts and installation instructions included.

 Scratch

Ages: 7 – 14
Experience: Beginner to Advanced
An excellent starting language, the drag-and-drop block style is intuitive and easy to pick up.

Javascript + HTML and CSS

Ages: 11 – 14
Experience: Beginner to Pro
The language of the web, coders will learn how to make a basic web page and Javascript application. Coders will share their work with each other, but not with strangers online.

Python

Ages: 11 – 14
Experience: Beginner to Pro
A versatile language, python is easy to learn and difficult to master. Campers will create a variety of text based games and practical programs.

Roblox

Ages: 11 – 14
Experience: Advanced
A camp for coders who already have coding experience. Campers will create and modify a world using the Lua programming language.
---
Register
A reliable internet connection is essential to participate in a virtual camp.
Camp is $299.99 for five weekdays, with 4 hours of guided learning and fun each day.
Children registered in our weekly development program get a 20% discount.
Next Event
Date

21 Jul 05

- 21 Aug 27

Time

10:00 am - 3:00 pm